Seven Days Tracks Down Ex-Priests Accused of Sex Abuse in Vermont
By Molly Walsh and Derek Brower
Seven Days
September 11, 2019
https://www.sevendaysvt.com/vermont/seven-days-tracks-down-ex-priests-accused-of-sex-abuse-in-vermont/Content?oid=28447849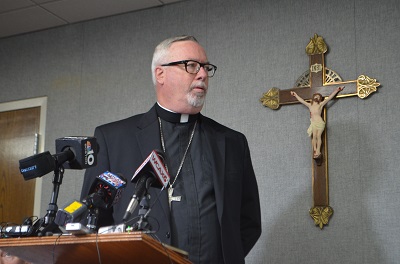 Bishop Christopher Coyne (File photo: Sasha Goldstein)
John "Jack" Kenney happened to be standing in his front yard when a reporter drove up the long dirt drive to his two-story home in West Glover last Thursday.
The 91-year-old ex-priest is among those "credibly accused of sexual abuse" according to a recent report from the Roman Catholic Diocese of Burlington.
Kenney had little to say when asked about the list of alleged perpetrators Bishop Christopher Coyne released last month.
"I'm not interested in it, thank you very much," Kenney said initially, as he stood in the September sunshine.
Asked again, Kenney responded, "The whole thing is a big farce. These people don't know what they are doing."
Was he aware of the allegations against him? Kenney said he was but declined to offer any details. "This is old, 1962 stuff," he said. "It's all part of the past. ... It's time to set the thing to rest instead of agitating it on and on, with more and more articles." He added: "It's ridiculous. The whole thing is stupid."
Kenney suggested the reporter "drive up here and back out," then turned slowly and headed for his door.
On August 22 the Burlington diocese revealed that, since 1950, 39 priests or former priests have been credibly accused of abusing children while assigned to a church in the state. The group of lay Vermonters who compiled the official report decided to include biographical information and the parish assignments of the accused priests but not to disclose any details about the allegations or to explain when church leaders learned of them. To qualify for inclusion in the report, an abuse allegation had to be "natural, plausible and probable."
Although most of those on the list are either dead or already notorious for abusing children, some of the names caught former congregants by surprise. For example, those who had contact with the late Father Charles Towne are trying him posthumously on a Facebook group called "You Knew You Grew Up in Winooski Because..."
Twelve of the accused men are still alive. For some of them, including Kenney, last month's report was the first public reckoning for alleged behavior that happened decades ago. To speak with them, Seven Days knocked on the doors of the seven men with Vermont addresses — down dirt roads, in condos and senior living complexes, and within eyeshot of local schools — and attempted to contact five others who reside out of state. Some had disconnected phones or addresses that couldn't be verified. Of those who could be reached, none confessed.
Details about many of the priests named in the report are already known, as the result of two decades of civil lawsuits against the church. For instance, Alfred Willis, who was defrocked in 1985, was considered a "sociopath" by church leaders, according to internal records made public through a mid-2000s lawsuit. Willis, 75, was last known to live in Virginia; he could not be reached for comment.
The 79-year-old James J. McShane Jr., also listed, has been named in multiple sex abuse lawsuits, including one in which camp counselors were said to have found dozens of images of naked boys in the priest's cabin. Seven Days traveled to a Rutland County house linked to McShane, where figurines of Jesus decorated the front steps, and stained glass panels were visible through the windows. No one responded to a knock on the door.
Charles G. Many, accused of molesting boys in Connecticut and Vermont, lives at a retirement home in Williston. He did not respond to messages left through an intercom system but has denied all allegations in years past.
Among the living locals newly linked to abuse claims is Ronald A. Soutiere, a Winooski-born former priest who served in Vermont for 12 years over four decades. Soutiere was assigned to St. Monica Parish in Barre in 1974 before joining the faculty at Rice Memorial High School in 1978. He spent 16 years in the U.S. Navy, then returned to Graniteville's St. Sylvester church as an administrator in 1999. He resigned as pastor at St. Ann in Milton in 2002 and was placed on leave two months later. The late bishop Kenneth Angell removed Soutiere from his work as a priest in 2004.
The 82-year-old Soutiere lives in a red brick condo complex in South Burlington. On a recent sunny afternoon, the blinds were drawn. Soutiere came to the front door of his darkened apartment wearing a T-shirt. He had bags under his eyes. Peeking around a partially opened door, the former priest said he was aware of the diocese's report but declined to respond.
"I'm sorry, I don't have anything to say," he repeated several times, then shut the door gently.
A couple of the newly outed priests haven't been hiding. A Swanton address connected to native Vermonter Dennis J. Laroche boasts an enormous American flag hanging over the front yard, a garage full of tools and a family nameplate affixed near the front door. His public Facebook profile suggests the 73-year-old former priest has enjoyed his golden years boating and golfing with friends. His last public post is dated January 30 — the day before his name appeared on an abusive priest list issued by the Catholic diocese in Houston, Texas.
The Houston list states that Laroche left the priesthood in 1987, but the Burlington diocese list reveals that he actually served in Vermont for five additional years, including as an assistant priest at St. Joseph Cathedral, in Burlington, and at St. John Vianney in South Burlington. He was ordained in the Maryknoll order.
A woman who answered the door at the Swanton address said the former priest wasn't home and that he'd call a Seven Days reporter if he had anything to say. He didn't call.
In Burlington, a condo unit linked to Conrad A. Bessette is located across North Avenue from Burlington High School. Bessette, a Burlington native, was removed from duty in 1990 by then-bishop John Marshall after serving for 17 years in eight Vermont parishes. He was later defrocked.
One neighbor knew him only as "the priest" next door. There's a cross in a front window of the condo unit, but the occupant did not answer the door on three occasions or reply to a message requesting an interview.
Bessette's name had not appeared in publicized lawsuits or online abuser databases before last month, though attorney Jerome O'Neill, who represents survivors of abuse by Vermont priests, said Bessette is the subject of one of five lawsuits O'Neill filed against the Burlington diocese earlier this summer. He declined to elaborate on his client's allegations against Bessette because the lawsuits were filed under seal.
O'Neill, who has brought 55 lawsuits against the diocese and obtained a combined $31.5 million in settlements, said few, if any, of Vermont's accused priests have acknowledged or accepted responsibility for their behavior.
"There was such denial that the conduct was wrong to begin with," he said. "They got away with it for so long, they can't believe they're being identified and held accountable."
Kenney, of West Glover, was named in a 2006 abuse complaint against the diocese, but the allegations against him didn't receive press coverage at the time. His was one of more than two dozen cases the diocese settled collectively in 2010 for more than $20 million. Possibly because other cases were more high-profile, Kenney's name didn't appear in news stories or the online priest database at bishop-accountability.org or in Google search results until recently. Even the bishop's report left out the fact that the diocese removed Kenney from his priestly duties in 2006, which Seven Days learned last week after contacting the diocese for information about Kenney's status in the church.
The complaint Kenney dismissed as "1962 stuff" alleged that he sexually abused a young parishioner named David Fortin at St. Joseph Cathedral in Burlington, where Kenney preached from 1962 to 1965.
Fortin, a retired U.S. Navy hospital corpsman who lives outside Boston with his wife, recounted what happened to him in a telephone interview with Seven Days last Friday.
Whatever Kenney says now, he exploited Fortin when he was a naïve teen who looked up to the priesthood, Fortin said: "He was a perpetrator."
Fortin said he was 15 years old when the abuse began. He had graduated from the eighth grade at St. Joseph parochial school and entered ninth grade at Burlington High School. Both his parents had a strong faith, and Fortin felt a reverence for the church and for the priests who seemed so close to God as they stood at the altar.
"I admired them. There was something about them that was beautiful," he said.
His mother suggested that her son speak with Kenney about how to become a priest. Fortin did so, and at the close of their first meeting, Fortin said Kenney asked him: "How about a hug?" Another meeting followed, with another hug, and then a pat, and more encounters that evolved into sex. Fortin recalled feeling confused, scared and sinful, but Kenney had reassured the teen by telling him, "God knows what we're doing."
The abuse went on for several years. Fortin never told his parents, or anyone else, and believes that in that era it would have been difficult to do so.
"The priest would have obviously denied it, like he's doing now. He would have turned it around, and I would have been the one in trouble," Fortin said. "Because priests don't lie. Adults don't lie. It was just a different day back then."
Fortin says he kept the abuse "locked away" for decades until about 2002 after the Boston Globe's investigative reporting on priest abuse. That's when some church leaders started urging victims to contact their dioceses, he recalled.
Fortin, a father and grandfather who remains a faithful Catholic, eventually made a complaint to the Burlington diocese. He also entered counseling, which he said has helped him stop asking, "why me," and focus on healing.
He declined to discuss the sum he received in his portion of the lawsuit settlement, other than to say it was "considerable" and that he believed it helped push the diocese to stop covering up for abusing priests. Any legal obligation he had to remain silent was lifted last year, when Coyne released all church abuse survivors from non-disclosure agreements.
The report released last month is another important step, Fortin said, adding that he hopes it prompts victims to seek counseling if they have not already.
"It's an issue that needs to be fully responded to, fully answered to," he said. "It needs to come out, and people need to know who these perpetrators are."
Searchable Where Priests Credibly Accused of Sex Abuse Worked in Vermont (scroll down); also cached